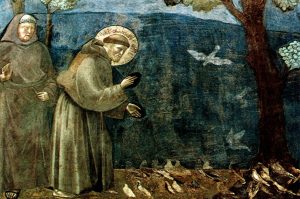 Shop for St. Francis of Assisi gifts, statues, rosaries, medals, art and more at the Internet's Catholic superstore.
St. Francis of Assisi, one of the most beloved saints in the Catholic Church, continues to inspire us with his deep love for God's creation, his dedication to the poor, and his embrace of a life of poverty.
Born into wealth in 1181, St. Francis made a radical choice to renounce his comfortable lifestyle to fully live out the Gospel. His life, teachings, and enduring influence have not only left an indelible mark on the Church but also attracted admiration and reverence from popes and saints.
St. Francis's profound respect for all of God's creation, famously evidenced in his "Sermon to the Birds," earned him the title of the patron saint of ecology. His love for nature and creatures reflects a core Franciscan belief of finding God in all of creation.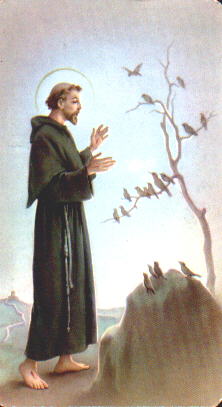 St. Francis's absolute commitment to poverty and his love for the poor have also been praised by popes and saints. Pope Benedict XVI, in one of his general audiences, said, "In Francis of Assisi, the love for poverty, which he had chosen for himself, became a love for the poor themselves, his brothers and sisters."
One of the miracles attributed to St. Francis is the receiving of the Stigmata, becoming the first recorded person in Christian history to bear the wounds of Christ's Passion. His devotion and identification with Christ's suffering were highly admired by St. Pio of Pietrelcina, another stigmatist. St. Pio once said, "If only I could be but a particle of what the Seraphic St. Francis was!"
His example has inspired not just popes and saints but all of us who strive to live out the Gospel in our everyday lives. As we reflect on his legacy, we are reminded of the enduring truth of his words: "It is no use walking anywhere to preach unless our walking is our preaching."
We invite you to browse our staff-selected products related to St. Francis below. All orders over $40 ship free, and every package is insured at no cost to you. Also, read our St. Francis article and see our St. Francis medals!