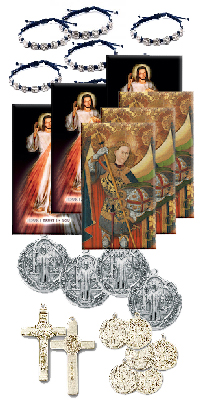 For those who wish to buy religious items in bulk, Catholic Shop now sells wholesale to the public at heavily discount prices.
Our importers and buyers scour the globe to find Catholic medals, bracelets, crosses, prayer cards and more. We seek out the highest-quality religious goods with the lowest possible prices, which allows us to pass the savings on to our customers.
Bulk religious goods are perfect for First Communion favors, church gatherings, Sunday schools, and more. Many of our customers like to buy in higher quantities just give away to friends, family, and even strangers as a way of evangelizing. Others buy religious items like rosary parts and bracelet medals to use as components for their handicrafts.
No matter your goal, buying in bulk can save you 50% or more. Plus, orders over $40 ship free and every package is automatically insured against loss or damage at no cost to you!