At CatholicShop.com, we carry a huge inventory of medals, pins, rosaries and much more! We're often asked how the sizes of our medals and pendants compare to each other and how to distinguish between standard and metric sizes. For your convenience, please use the chart below to determine the size of our medals.
If you have any questions, please contact us online or call us at :1-800-565-9176
Jewelry Materials
Gold: Because of the softness of pure (24 karat) gold, most jewelry is made from 14 karat gold, and sometimes 18 karat gold. If a piece of jewelry on our website is listed as 14K Gold or similar, than you will know it is solid 14K gold, not gold-plated or gold-filled.
---
Sterling Silver is an alloy of silver containing 92.5 by weight of silver and 7.5 by weight of other metals, usually copper. Fine silver, for example 99.9% pure silver, is generally too soft for producing functional objects; therefore, our silver jewelry is made of Sterling Silver.
---
Gold-Filled is an actual layer of gold that is pressure bonded to another metal. Gold filled is not to be confused with gold plating as gold-filled literally has 100% more gold than gold plating. Gold-filled is much more valuable and tarnish resistant. It does not flake off, rub off or turn colors.
---
Rhodium is a rare, silvery-white, hard member of the platinum group. Naturally occurring rhodium is one of the rarest and most valuable precious metals. Rhodium is a noble metal, resistant to corrosion, found in platinum or nickel ores together with the other members of the platinum group metals.
---
Pewter is a malleable metal alloy, traditionally 85–99% tin, with the remainder consisting of copper, antimony, bismuth and sometimes, less commonly today, lead. Silver is also sometimes used.
---
*If you'd like to print out the chart to see actual size representations, an easy way to check if you've printed the chart correctly is to place a coin onto the coin images and see if they match up. Download here: MedalChart.jpg

CHAINS
Almost all of our Sterling Silver Medals, Gold-Filled Medals, Gold-plated Medals, and Pewter Medals come with chains included. This includes our Saint Medals, Cross Pendants, Crucifixes, Miraculous Medals and more.
In many cases, you can choose to swap the chain that comes with the medal for one of the other chains we offer. For example, if you prefer a longer chain or different style than the chain described as coming with the medal in the product description.
As for our solid 14K jewelry, you can purchase 14K Gold chains separately. Alternatively, some customers prefer to purchase a gold-filled or gold-plated chain to go along with their 14K Gold medal.
The following types of chains are the most common chain offerings you will see when shopping for a piece of religious jewelry here at CatholicShop.com:

Endless Curb Chain
Lengths: 24, 27, and 30 inches
Metals: Sterling Silver, Rhodium, Gold-Filled, and Gold-plated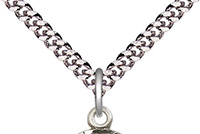 ​​​​​​​
Curb Chains with Lobster Clasps
Lengths: 18, 20, 24, 27, and 30 inches
Metals: Sterling Silver, 14K, Rhodium, Gold-Filled, and Gold-plated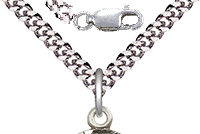 Rope Chains with Lobster Clasps
Lengths: 18, 20, 24, 27, and 30 inches
Metals: Sterling Silver, 14K, Rhodium, Gold-Filled, and Gold-plated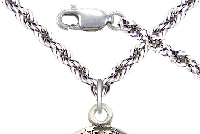 ​​​​​​​