Catholic Shop sells Virgin Mary medals based on some of the most popular Marian devotions. In addition, many of the items you'll find on our website relate to the Blessed Mother, such as Rosaries and Scapulars.
---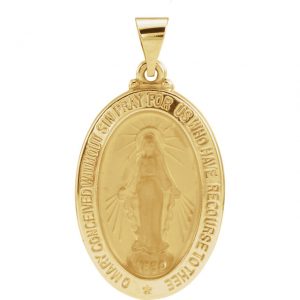 The Miraculous Medal: The Miraculous Medal was designed by St. Catherine Labouré in 1830 after a vision of the Virgin Mary. It is a medal that bears the image of Mary and the words "O Mary, conceived without sin, pray for us who have recourse to thee." It is said that wearing the Miraculous Medal can bring about miracles and graces. † Miraculous Medals †
---
Our Lady of Lourdes and Our Lady of Fatima, in addition to the Immaculate Heart, are a few of the more well-known devotions to the Virgin Mary that have been revered throughout Catholic history. Each of them provide the faithful with a way to draw closer to Mary and to seek her guidance and intercession in their daily lives. In the categories below, you can find Catholic medals based on these and many more beloved Marian devotions.