Our St. Christopher and Guardian Angel Visor Clip comes in a deluxe Apostle Gear gift box with a St. Christopher Prayer Card and a St. Christopher Sticker. Built to last a lifetime, this solid metal visor clip boasts an antique-style finish and a sturdy Stainless Steel clip for easy placement on car visors, rear view mirrors, or elsewhere.
The left side of the visor clip's vintage design features a raised depiction of St. Christopher carrying the child Jesus across a river, with the words St. Christopher Protect Us at the edge. The other side of the clip shows a beautiful angel with the words Guardian Angel Protect Us. A simple Cross stands out at the center of the clip.
The included sticker and holy card both feature one of the earliest-known artistic depictions of St. Christopher. On the back of the holy card is the beloved St. Christopher Prayer for Safe Travel.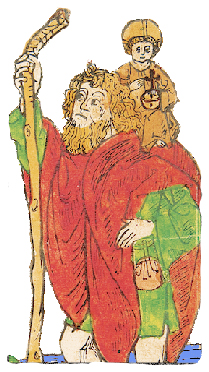 The tradition of seeking protection from St. Christopher, the patron saint of travelers, is an ancient Catholic practice. Dating back to the 3rd century, St. Christopher was known for his incredible strength and for carrying travelers safely across dangerous rivers.
Catholics often ask for Saint Christopher's intercession when embarking on trips by reciting prayers, wearing St. Christopher medals, or placing St. Christopher visor clips in their vehicles. This long-standing tradition serves as a powerful reminder of the importance of faith, even in our travels, and the comfort of knowing we are not alone in our journeys. Our St. Christopher visor clip is likewise a tangible reminder of God's presence in our lives wherever a journey may take us.
Savings: Buy 2 or more for automatic quantity discounts. Orders over $40 include free delivery.