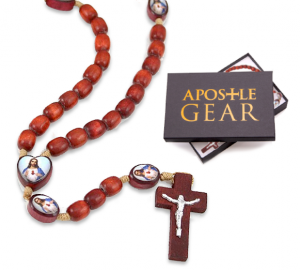 The devotion to the Sacred Heart (Sacratissimum Cor Iesu in Latin) is known worldwide among Catholics and Christians of other denominations. The image stems from Saint Margaret Mary Alacoque, who experienced apparitions of Jesus in 1673 and 1675. See our favorite Sacred Heart gifts and learn more about the devotion below.
The devotion to the Sacred Heart was officially recognized 75 years after Sr. Margaret Mary Alacoque's death. The Sacred Heart image depicts the heart of the resurrected Christ "pierced on the Cross", which reveals "God's boundless and passionate love for mankind."
Theologians surmise that the Sacred Heart symbolizes the "compassion of the heart of Christ towards humanity."
CatholicShop.com carries hundreds of beautiful products related to the Sacred Heart devotion. See some favorites below.
Sacred Heart of Jesus Prayers
Prayer to the Sacred Heart
O most holy Heart of Jesus, fountain of every blessing,
I adore you, I love you and will a lively sorrow for my sins.
I offer you this poor heart of mine.
Make me humble, patient, pure, and wholly obedient to your will.
Grant, good Jesus, that I may live in you and for you.
Protect me in the midst of danger; comfort me in my afflictions;
give me health of body, assistance in my temporal needs,
your blessings on all that I do, and the grace of a holy death.
Within your heart I place my every care.
In every need let me come to you with humble trust saying,
Heart of Jesus, help me.
Amen.
$20.00

$9.99  |   50% OFF   |  SHOP

Sacred Heart of Jesus, I place all my trust in you.

This prayer is from Saint Margaret Mary Alacoque

O Sacred Heart of Jesus, for whom it is impossible not to have compassion on the afflicted, have pity on us miserable sinners and grant us the grace which we ask of you, through the Sorrowful and Immaculate Heart of Mary, your tender mother and ours.

Say the Hail, Holy Queen and add: "Saint Joseph, foster father of Jesus, pray for us."

Prayer to the Sacred Heart in Times of Loss or Betrayal

Sweet Jesus, your heart beats for the brokenhearted,
and you know their pain.
You experienced loss when your friend Lazarus died,
and betrayal when your friends abandoned and rejected you in
your darkest hours.

I ask you for relief and release right now in this time of grief.
I cry out to your heart, seeking comfort and consolation.
Take this present heartache and unite it to your own for the good of others,
especially (_____)
Ease my sorrow,
and fill my heart with hope and light to face another day.
Amen.

Prayer of Thanksgiving and Praise to the Sacred Heart

Lord, you deserve all honor and praise,
because your love is perfect and your heart sublime.
My heart is filled to overflowing with gratitude
for the many blessings and graces you have bestowed upon me and those
whom I love.
Forever undeserving, may I always be attentive
and never take for granted the gifts of mercy and love
that flow so freely and generously from your Sacred Heart.
Heart of Jesus, I adore you.
Heart of Jesus, I praise you.
Heart of Jesus, I thank you.
Heart of Jesus, I love you forever and always.
Amen.
Like and follow CatholicShop: