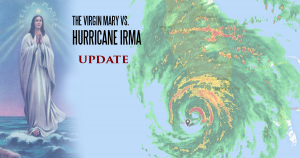 By Sean Bloomfield (9/12/2017): Before Hurricane Irma came ashore in the Florida Keys, we posted this article about the Marian shrine in Key West which reportedly protects the island from hurricanes (see The Virgin Mary vs. Hurricane Irma).
Well, it seems that Sister Gabriel was right once again. The damage inflicted by Hurricane Irma on Key West is being reported as surprisingly minimal compared to the force of the storm.
"It was not nearly as bad as everyone predicted," said one eyewitness in Key West.
This article from the Washington Post describes what one reporter, Scott Unger, saw after the storm passed:
Though predictions had been dire, what Unger saw wasn't. Sure, trees were down — a Gumbo Limbo here and a large mahogany there — but none that he saw had hit much of anything, really. There was flooding, too. Three-feet deep in some parts, mostly in low-lying areas and especially around the Key West Bight. Some places well-known to tourists — including Caroline Street, of Jimmy Buffett lyrics — were under floodwaters. But a catastrophe didn't materialize on Key West.
"There is some damage, but it's far from catastrophic," said Unger, who is working as a freelancer for The Washington Post this week. He trudged around town on Sunday surveying the damage. "Everyone we've talked to is happy and fine and considering it a win for Key West. Everyone's in good spirits. The general sense is that we lucked out and it's not nearly as bad as everyone predicted."
It seems that the Our Lady of Lourdes shrine fared well, too. The Mary Star of the Sea Basilica website posted this note:
Fr. John and the Sisters have all weathered the storm without incident and are well. They are truly appreciative of your constant prayer and are looking forward to celebrating daily Mass with everyone tomorrow (and every morning forward) in the Basilica at 7:30 AM. Thanks be to God!
And for all you animal lovers out there: you'll be happy to know that all 54 cats at the Hemingway House (and their caretakers) are safe, according to articles like this one.
Sadly, other parts of the Keys were not as fortunate. On some islands, in fact, the scenes are being described as apocalyptic. Big Pine Key suffered terrible damage, and much of Marathon was reportedly underwater. My aunt and uncle have yet to get word about their house on Duck Key, but they expect heavy damage. See the videos below.
Please keep the people of the Florida Keys, and everyone else affected by the storm, in your prayers.
⇒ See our Facebook post about the Irma miracle we experienced at the CatholicShop.com office.
Like and follow CatholicShop: